Baby was born with a 'permanent smile,' the reason behind it will leave you in awe!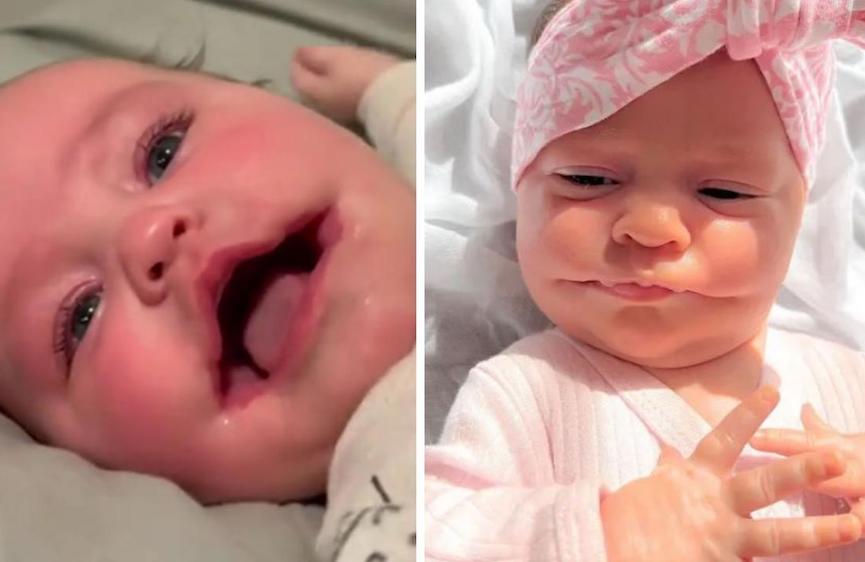 According to parents Cristina and Blaize, their baby girl, Ayla, was reportedly born with a rare ailment known as a "permanent grin". The doctors reportedly told the parents that their daughter was born with Bilateral Macrostomia, an extremely uncommon disorder in which the corners of the mouth do not correctly fuse together while the infant is still in the womb. This caused Ayla to be born with an abnormally large mouth.
Bilateral Microstomia is exceedingly unusual and affects just one side of the mouth but in Ayla's case, it has affected both sides of her mouth. This extremely unusual disease was discovered to affect Ayla shortly after her birth.
---
This has a significant impact, both on the aesthetics and the functionality, of the oral cavity. This ailment has resulted in the infant always having a smile on her face, which has catapulted her to the status of a social media celebrity. Her mother uploaded a few pictures of the newborn to Instagram and shared them with followers. The physicians in Australia informed both parents of the news, explaining that Ayla had developed this condition while she was still in Cristina's womb.
Ms. Vercher stated, "Blaize and I were not aware of this condition nor had I ever met someone born with a macrostomia. So it came as a huge shock." She then posted a picture of the baby looking just precious, and she wrote, "My Darling Lala. Better late than never. Running 2 days behind at all times… Almost out of her premmie suits." This melted people's hearts all over social media. In the beginning, the medical professionals working at the hospital were perplexed since they had never seen a case like this before, and prenatal scans had failed to reveal it.
They did not notify the new parents about the situation until many hours later. "With this came more difficulties as the hospital had little knowledge or support for such a rare condition," the mother stated. She further added, "All I could think about as a mother was where I went wrong, especially when I had been so pedantic throughout my entire pregnancy. Yet, her father and I had been reassured by multiple doctors after days of genetic testing and scan that this condition was entirely out of our control and was of no fault of our own."