Bride Enjoys Her Wedding, Not Expecting to Receive a Letter from Dad Who Died When She Was 8
When a loving father was told he had terminal cancer, he realized he would miss many important moments in his daughter's life. He made preparations in advance to guarantee that his princess felt his presence on her wedding day.
The death of a parent is never easy to bear, but losing a child is extremely difficult. Every day, children feel their parents' absence and want for reassurance that they are still with them.
Not all parents are aware that their time with their children may be limited, but one father was, and he opted to leave something unique for his beloved daughter, which she got 15 years after his death.
---
Todd Excell was devastated when he received his cancer diagnosis. He didn't want his daughter to grow up without him because she was only a child. His illness worsened, and he died in 2001, while his daughter Emily was just eight years old.
In the years after his death, the young girl from Liverpool, New York, had to be brave. She navigated her adolescent and young adult years without him, which was difficult because he was her hero.
Excell had an idea during his final months on earth that would one day mean the world to his daughter. The father wanted to write Emily a letter for each key event in her life.
However, because he was short on time, he wrote a few words for one of the most important days of her life: her wedding day. He painstakingly planned each word in his loving letter to his adored child.
The father thought it would be something his daughter would treasure for a lifetime, so he put the letter in the freezer and waited for the proper moment.
Emily married Shakeal Darbey, the man of her dreams, in 2016. The day was full of love and happiness, but the woman missed her father terribly. He had something special prepared for her, she had no idea.
She was overcome with emotion as her godfather and uncle, Peter, revealed the letter. Emily clasped her husband's hand and wiped away tears as Peter read her father's remarks written 15 years ago in a heartbreaking video.
Emily received counsel from the letter, which also served as a lovely reminder that her father was still looking out for her. Excell stated his affection for her and his desire to be present at her wedding.
The father wrote in the letter:
"You Are My Heart And Soul And Always Will Be. I'm Writing This Letter For Your Wedding Day To Tell You How I Will Not Be There In Body But I Will Be There In Spirit."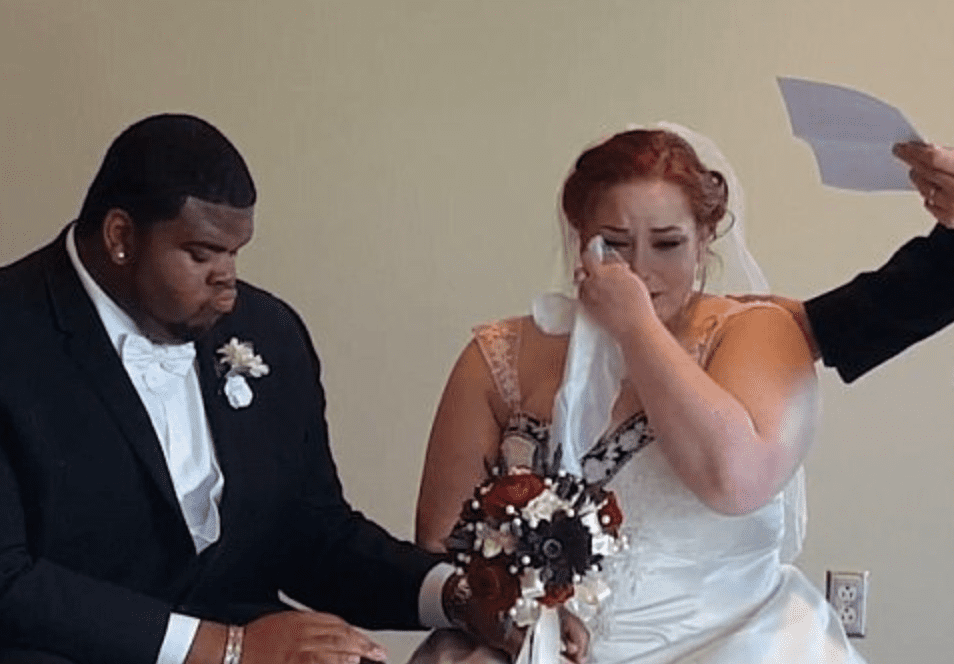 ADVICE FROM THE FATHER TO THE COUPLE
Excell offered some advice for the wedded pair, telling them to love one other even when they had disagreements or encountered difficulties.
He explained:
"Always To Say 'I Love You' To Each Other … It's Just The Other Feelings That Get In The Way. Love Will Hold The Marriage Together."
FOR HER NEW HUSBAND MESSAGE
Shakeal received a message from his adoring father. He wanted his daughter's husband to know that he was with them and that he adored them.
He also left a humorous note for the groom. He said:
"To The New Husband. I Will Not Be Able To Intimidate You Or Ask You A Million Questions Before You Date My Daughter … But What I Can Do — Is Haunt You."
The bride smiled as the audience laughed at the bride's statements. Excell had one more request for Shakeal: he wanted the groom to take care of his daughter and treat her like the princess and queen she was.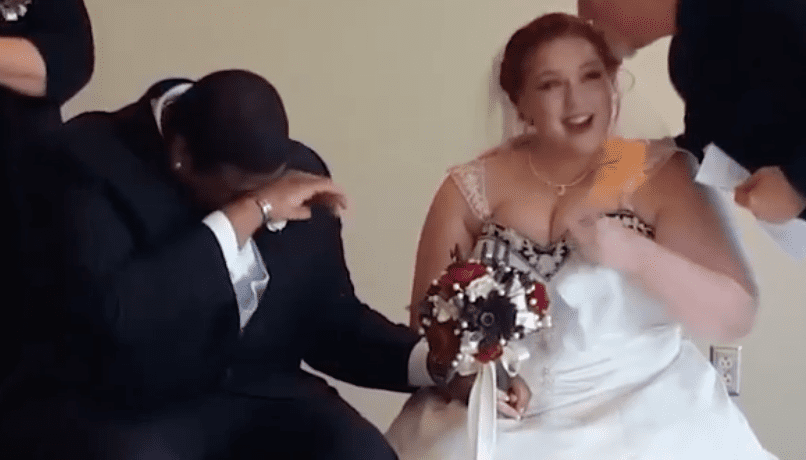 Emily and her husband fought back tears throughout the reading of the letter. The bride was taken aback by the enormous surprise and giddy with delight.
While she hoped her father could have been there with them, she was glad for the letter, and his words meant the world to her.
Guests could be heard replying to Excell's statements in the video, and they were genuinely moved. One year after their wedding, the couple rewatched the video and were overjoyed to have the memories.
Suzanne Excell, Emily's mother, said:
"Emily Cried At The End With The Pictures But Was So Happy For The Memory She Would Keep. Shakeal Laughed Again At The Point Of Being Haunted And Said He Is On His Best Behavior."
Guests could be heard replying to Excell's statements in the video, and they were genuinely moved. One year after their wedding, the couple rewatched the video and were overjoyed to have the memories.
Suzanne Excell, Emily's mother, said:
"I Couldn't Even Listen To All Of It Cause I Was Crying So Hard. So Glad [Your] Father Thought Ahead To Give U Such A Special Gift! I Miss My Father So Much. [He] Died From Cancer Too."
Your commenter, who lost their father when they were ten years old, expressed empathy with Emily. "This is lovely," they exclaimed. But it's a pity. I understand how it feels to not have your father present on your wedding day."
THE PUREST LOVE IS THAT OF A FATHER.
Many members of the online group emphasized the significance of a father-daughter relationship. They felt for Emily and others who had gone through similar experiences.
Emily received a personal note from one of the users. They stated:
"I Wish You Nothing But Happiness And Joy For The Rest Of Your Life. You Deserve Everything After All You've Been Dealt. May God Bless You And Your Family."