President Biden was emphatic last September when declaring "the pandemic is over," signaling his administration was prepared in coming months to pivot the nation from a public health crisis and phase out a range of emergency measures.
But executive officials want to keep one key COVID-19 response effort in place indefinitely: the student loan relief program that would cancel hundreds of billions of dollars in borrower debt. Now the U.S. Supreme Court is poised to intervene and will hear oral arguments Tuesday in a pair of expedited legal challenges.
A coalition of six GOP-led states — Nebraska, Missouri, Arkansas, Iowa, Kansas and South Carolina — wants to block the federal debt forgiveness plan, calling it an executive branch overreach absent any clear congressional mandate. They are supported by 17 other states, more than 170 Republican members of Congress and a range of conservative advocacy groups.
But the Biden administration, with the backing of 21 Democrat-led states and the District of Columbia, says the upcoming end of emergency declarations does not change what it calls the "legal justification" for extending the student loan plan, arguing, without it, the financial pain for millions will extend far beyond COVID's demise.
GOP SENATORS PUSH BILL TO BLOCK BIDEN'S 'RECKLESS' STUDENT LOAN BAILOUT, PREVENT TAXPAYERS FROM COVERING COSTS
"From the perspective of most Americans, we're obviously nowhere near the place we were several years ago when this whole pandemic started," said Thomas Dupree, an appellate attorney and former top Bush Justice Department official. "And so the Supreme Court may say, 'Wait a minute. Even if that was a legitimate justification, does it really bear weight in the year 2023 when, by virtually everyone's assessment, the pandemic is over?' Has the Biden administration overstepped its bounds in authorizing this massive debt forgiveness program in a way that Congress never authorized?"
Payments and the pandemic
Biden this month announced he would stop classifying COVID as a national emergency May 11. These federal declarations have been in place since early 2020 in the Trump administration, waiving, pausing or modifying a range of areas, including Medicaid, Medicare, private health insurance, vaccines, telework and immigration.
And, like his predecessor, the current president relied on the Higher Education Relief Opportunities for Students Act of 2003 (HEROES Act), a law passed in the wake of the 9/11 attacks, that allows the federal government to make changes to student loan programs in response to national emergencies.
The program, if allowed to be fully implemented, could benefit about 40 million Americans, offering up to $20,000 of debt relief to qualified at-risk federal Pell Grant borrowers, and $10,000 for non-Pell Grant recipients. The Education Department has already announced a "payment pause" until mid-2023.
BIDEN MOVES FORWARD WITH 'STUDENT LOAN SAFETY NET' AS DEBT CANCELLATION PLAN AWAITS FATE BEFORE SUPREME COURT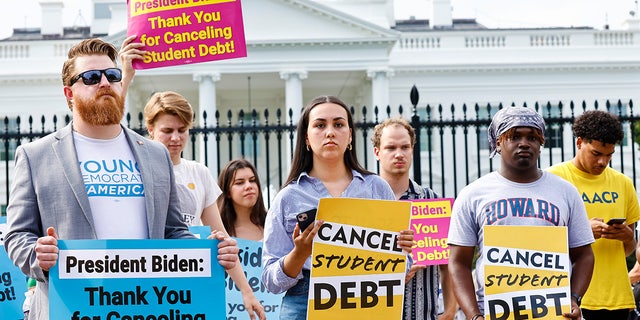 Nearly $441 billion in outstanding student loans are eligible for forgiveness under the plan, and it is expected to wipe out balances for almost 40% of federal student loan borrowers, according to the Federal Reserve Bank of New York.
But new applications for relief were halted in November as the policy's future was held up in court.
The justices will hear two separate appeals, each with contrasting legal positions. The state parties cite policy objections and say they would be unfairly burdened by the Biden plan.
And two individual borrowers seek broader debt relief after claiming they were unfairly excluded from the full scope of government benefits because their debt is commercially or personally held.
The arguments
States opposing the plan say students struggling with paying off college loans predated the pandemic and that the administration is using the waning health crisis as a pretext power grab to bypass Congress and score political points.
STATES CHALLENGE BIDEN'S $400B STUDENT LOAN HANDOUT AT SUPREME COURT, CALLING IT 'UNLAWFUL'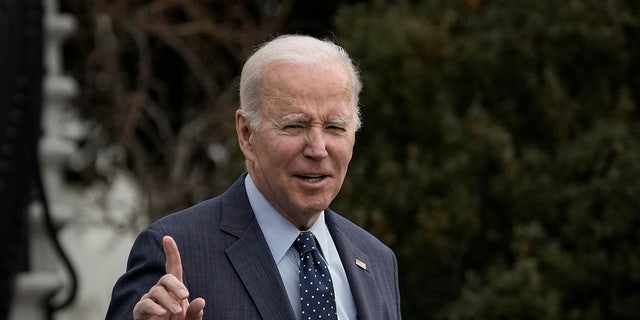 When announcing the program last August, Biden said, "When I campaigned for President [in 2020], I made a commitment that we'd provide student debt relief. And I'm honoring that commitment today."
Officials call it part of a broader strategy to implement an affordable, income-driven repayment system.
"The Biden-Harris administration is proposing historic changes that would make student loan repayment more affordable and manageable than ever before," said Education Secretary Miguel Cardona. "We cannot return to the same broken system we had before the pandemic, when a million borrowers defaulted on their loans a year and snowballing interest left millions owing more than they initially borrowed."
In a legal brief filed with the high court, state plaintiffs argued, "Canceling hundreds of billions of dollars in student loans — through a decree that extends to nearly all borrowers — is a breathtaking assertion of power and a matter of great economic and political significance."
PRESIDENT BIDEN'S STUDENT DEBT RELIEF IS 'COMFORTABLY WITHIN' LAW, DOJ ARGUES TO SCOTUS
The group representing the individual borrowers separately says giving the administration's open-ended authority to impose debt relief will only hurt a long-term solution through bipartisan legislative efforts.
"It's true that students are drowning in debt and that this has become a crisis, but Biden's bailout does nothing to actually solve it," said Elaine Parker, president of the Job Creators Network Foundation (JCNF). "Colleges and universities, which keep raising tuitions while sitting on a $700 billion mountain of endowments, should own up to their own role in this crisis and work with lawmakers to devise a solution that does not leave taxpayers on the hook."
But the Biden administration told the high court its debt relief efforts "fall comfortably within the plain text of the [HEROES Act]" and was a reasonable, targeted solution to confront the risk of default, based on lingering financial hardship caused by an unexpected public health crisis.
The GOP-led states cannot "second-guess the [Education] Secretary's considered evaluation of the evidence or his predictive judgment about the type and degree of relief required to ensure that borrowers are not placed in a worse financial position because of the pandemic," the Justice Department wrote.
WHITE HOUSE EXTENDS STUDENT LOAN PAYMENT PAUSE THROUGH JUNE 2023 DESPITE BIDEN PLEDGE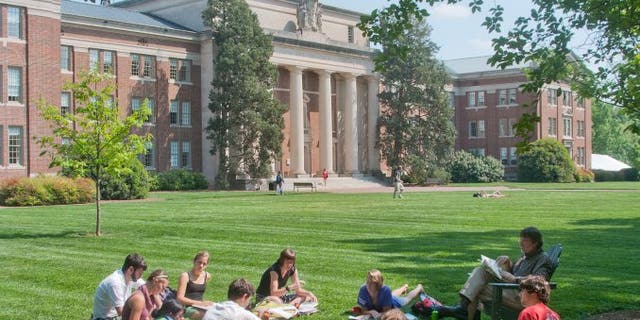 How the court may rule
The first hurdle for the Republican states will be standing, or justification to prove actual harm by the challenged policies. The states argue they will lose tax revenue as a result of the plan, in part from lost profits by companies servicing federal student loans.
One lower court rejected that claim, and the federal government said the states' positions are "convoluted" and "assert standing based on injuries that are highly speculative, that they have inflicted upon themselves."
Assuming the state and private plaintiffs can overcome that procedural barrier, the key questions could come down to how much discretion the executive branch enjoys to enact unilateral emergency policies in the guise of public health, when that authority ceases and who decides.
Expect opponents of the debt relief plan to use Biden's own words about the pandemic being "over" and his steps to make it formal this spring as a clear sign he can no longer link the two.
BIDEN'S STUDENT LOAN HANDOUT WILL 'GO DOWN IN FLAMES' IF CASE REACHES SUPREME COURT, EXPERTS SAY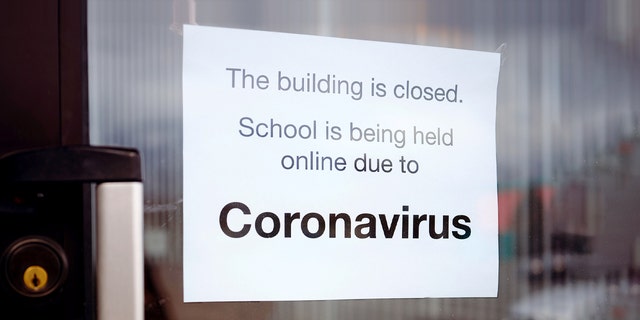 Two federal appeals courts have allowed the lawsuits to move through, and the high court's current 6-3 majority has been recently receptive to state challenges over a range of federal policies, including the environment and immigration.
The day after arguments in the student debt relief cases, the Supreme Court was scheduled to address another COVID-related administration policy: Title 42, restricting asylum requests for migrants at the border in the name of public health.
Here, the arguments on justifying a national emergency policy flip. The Biden administration wants to end the Trump-era immigration policy by saying it is no longer needed to stop the spread of the disease. But GOP-led states are suing to keep it in place, arguing in part that a companion national emergency exists — the worsening border crisis.
The Supreme Court last week canceled those arguments after the Justice Department said the May 11 end of COVID-driven federal restrictions would make the border dispute essentially moot. It is unclear whether the issue will be revisited anytime soon, or whether planned immigration changes would survive legal scrutiny.
Biden's new border asylum reform strategy unveiled Tuesday was slammed by members of his own party, with House Judiciary Committee Ranking Member Jerry Nadler, D-N.Y., saying he was "deeply disappointed."
STUDENT LOAN HANDOUT: NEW LAWSUIT SAYS BIDEN DIDN'T FOLLOW ADMINISTRATIVE PROCEDURES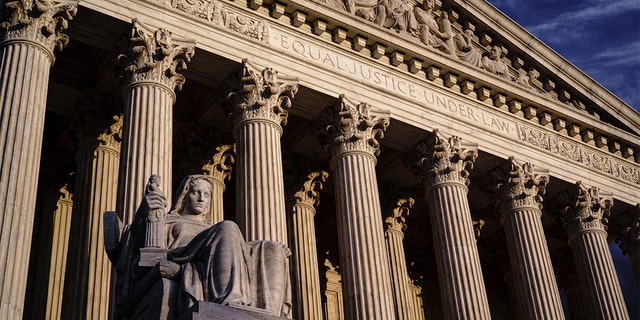 The irony in these high-profile policy debates and the arguments both sides have used to confront the future of both immigration and student loans will likely not be lost on the U.S. Supreme Court. How the nine justices choose to tackle the competing interests will be another test of balancing government power — state versus federal and executive versus legislative.
"The existence of the pandemic authorized the federal government to do certain things that it couldn't do in ordinary times — some things the Biden administration liked, some things the Trump administration liked," said attorney Dupree. "Now that we're post-pandemic, the things that were authorized during the pandemic don't have the same justification they once did. And so that's why you see everyone in the one camp arguing a certain policy when the ball's in one court, but taking a different position when the ball is in the other court."
Biden administration officials privately remain confident of prevailing in court on student loans and say they have no contingency plans in place.
But sources say student debt forgiveness advocates have quietly urged the Education Department to prepare for a Supreme Court loss, by replacing one policy for another: scrapping the HEROES Act for protections under the Higher Education Act of 1965.
For practical purposes, higher education experts expect the clock for federal loan repayments to start when the high court rules, which could happen anywhere between April and late June.
CLICK HERE TO GET THE FOX NEWS APP
The Education Department indicated those bills would start being sent 60 days after that final merits decision.
The separate cases to be argued are Biden v. Nebraska (22-506) and Department of Education v. Brown (22-535).