Surgeons were left stunned and 'screamed in disbelief by what they found in drunk man's stomach'!
We need to be careful in what we eat and not only physically, but also spiritually and psychologically. If we eat healthy food physically, we will have a proper growth and development, and our body will be supplied with good ingredients for its normal functioning.
But, we also need to be careful what we insert into our bodies. Sometimes people accidentally swallow something they shouldn't. This was not the case with this drunk man.
Per reports, the surgeons were stunned when they needed to remove a steel cup from a man's stomach, which they believe was initially inserted into his 'behind'.
---
An unnamed man was reporting stomach pains for several days and no treatment seemed to work, despite seeing multiple doctors, according to The Post. He then saw Dr. Lal, who did an X-ray and discovered the cup inside him.
The man was then rushed to surgery where surgeons successfully removed a cup the size of a hand from what appears to be an incision in his stomach.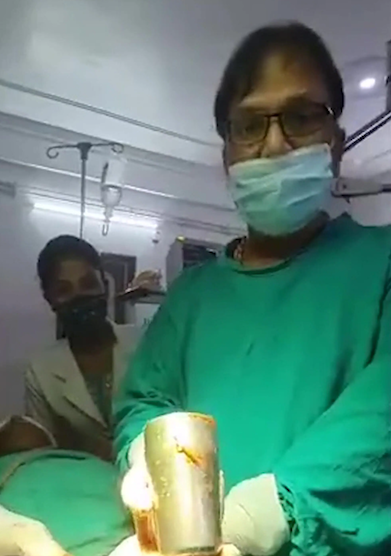 According to The Post, video shows the procedure which begins with one doctor cleaning the stomach area before carefully removing the silver cup with the bottom of the object facing up. Medical staff appears to be in disbelief as the surgeon holds up the tumbler for the camera.
The man, who works as a laborer, has recovered well, according to reports. The medical professionals have hypothesized that the cup reached his stomach after being inserted up the man's 'behind'.
Doctors said the man got extremely drunk with three strangers after returning from a grocery store, where he had gone to get vegetables. By the time he sobered up, the unknown people were not present, and doctors aren't sure if the man shoved the cup up his rectum himself or if he was assaulted.